The perfect accelerator for growing eCommerce companies averaging between 200-500 sales a month. The eCommerce Accelerator by eCommerce Cosmos is designed to help you level up.
Investing in long term success of your business the accelerator will ensure your traffic and conversions increase every month.
Deliverables
#1: A Perfectly Crafted Piece of Content
You've heard it before, Content is King, and it's king because unlike advertisements it lives forever.
That is… if you do eCommerce content marketing right.
You can go through $2,000 in advertisements in a month and next month you have to go through another $2,000 to get another 5000 visitors to your site.
With evergreen content you'll invest in a piece of marketing that will look something like this.

You won't see an immediate return like you do when you "Pay Per Click" but you'll continue to see the returns for months to come without having to invest more money into it.
That is just one blog post, imagine when you have hundreds.
Now there are a lot of variables when it comes to ensuring your piece of content is a success. Our strategy to ranking on Google is to be the best solution to the search term. With preliminary keyword research we'll dig into what topics your audience cares about and researches actively.
For example, if you are selling drone with cameras online you can write content geared for the drone buyer based off keyword research.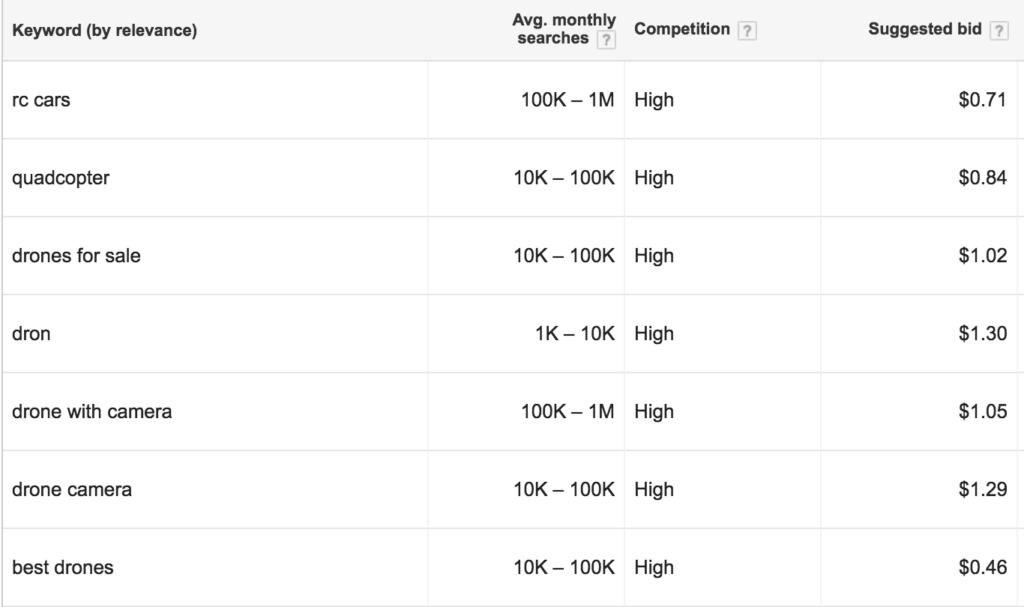 Within a few minutes we have some great article ideas.
9 of the best drones with cameras in the world
51 of the most spectacular locations to take your drone with a camera
How to find the best drones for sale online
These articles will boost your authority in the industry and they will bring you organic traffic for FREE. Note the column "Suggested Bid", the suggested bid column is what you would pay to advertise on that keyword.
If you are ranking organically for it, keywords like "drone with camera" are worth tens of thousands of dollars every month. $$$$$$
Now that you've written it comes the second and most important part of content marketing.
Content promotion.
Writing is just 30% and promotion is 70% and this is where we excel. We won't give away all of our content promotion secrets but we'll discover the ideal communities and influencers to promote your content to and you can watch sales skyrocket.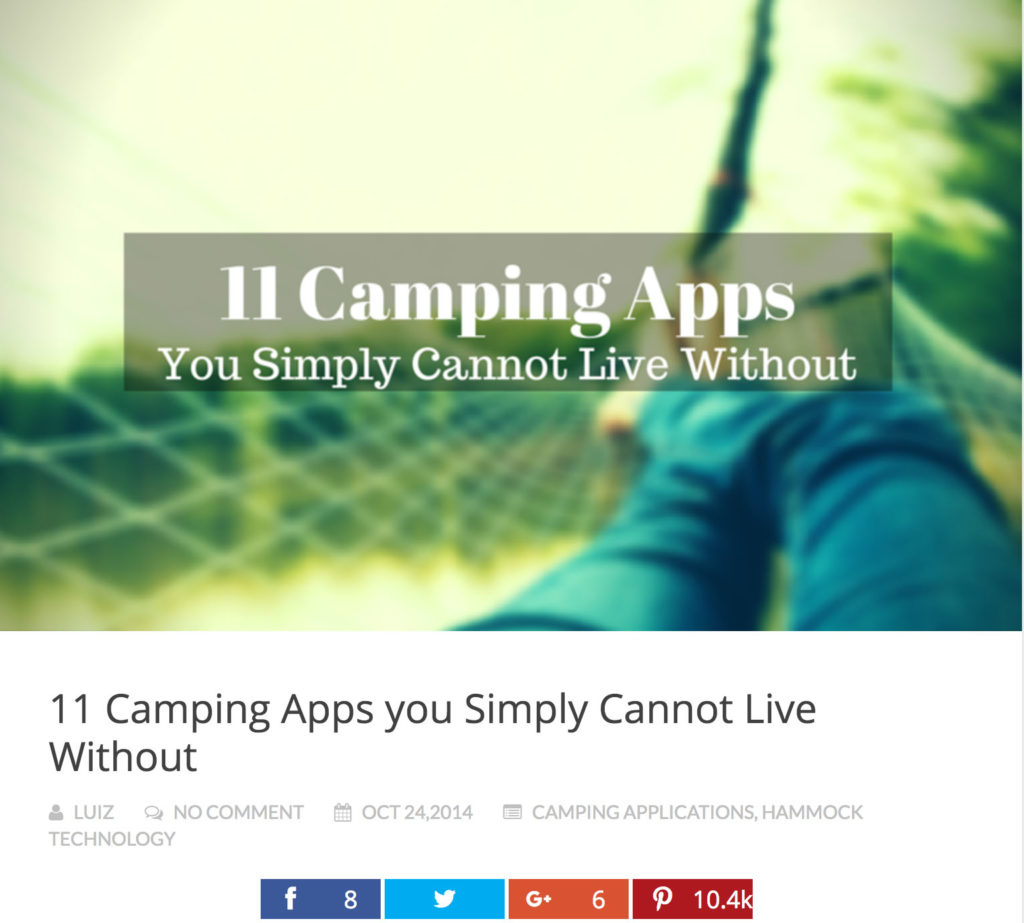 This post on Hammock Town about camping apps drives thousands of new visitors every month, acquires hundreds of emails and generates a handful of sales. Win!
The content piece itself will pay for the eCommerce Accelerator program but you get more than that. Remember we are investing in your long term success.
#2: A Beautiful Email Sent Via our Email Service Provider To Your Email List
If you are using one of our email service providers. Mailchimp or Klaviyo we'll send an email to your audience promoting your content! ($500.00 Value)
If you aren't utilizing email marketing yet we'll set you up with our ESP ($3,500 value), email marketing is another one of our specialities. We even created a FREE eCommerce Email Marketing Course to get you up to speed.
In addition to your promo emails you send, you should deliver your customers happiness in their inbox. Don't always go for the sale, get your customers in the habit of opening up your emails.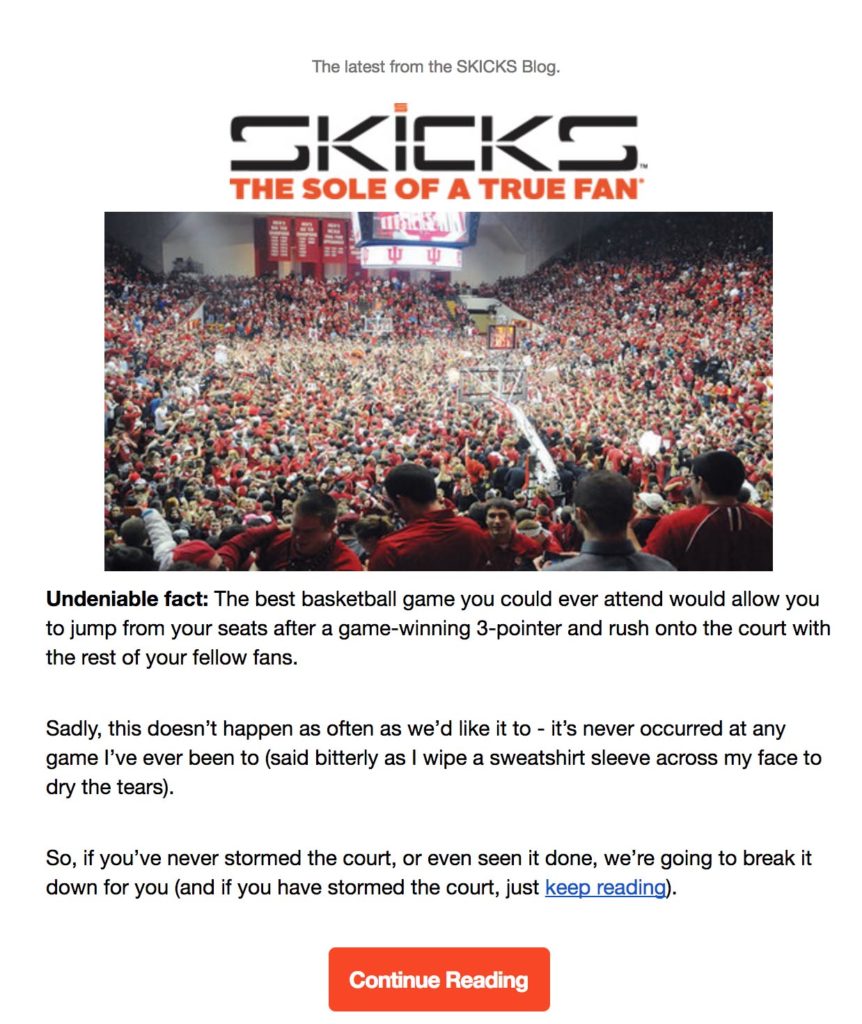 By sending them relevant content to read, when your promo emails come around they will be glad to open it and buy.
#3: A Strategic Social Media Post
We'll ask you to invest $10-50 per blog post to promote it on effective social media channels. By investing in paid content promotion to lookalike audiences and targeted customer groups you'll get your site seen by thousands of potential new customers.
This social media post example below isn't about hammock sales it's about adventure, it's exactly what Hammock Town's audience wants to see.
For $10.00 we've more than tripled our reach and best of all, engaged with potential customers. This creates real, meaningful and lasting relationships with customers.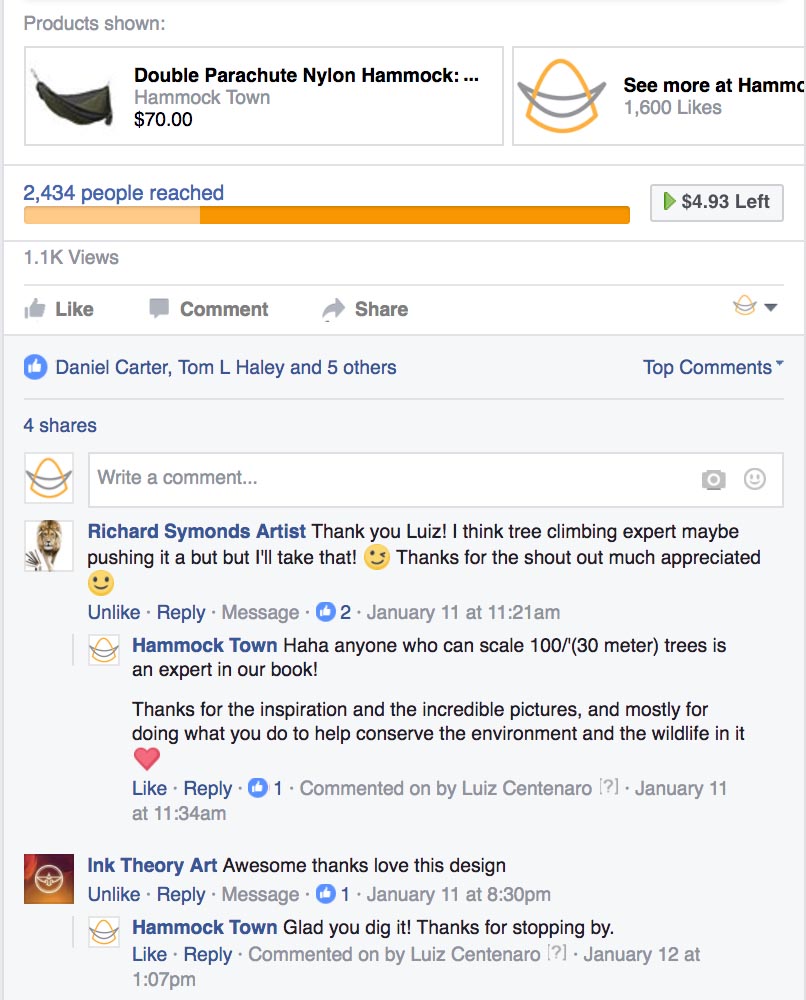 #4: 1 Monthly Analytics Report and 1 Hour Consulting Session
This is where the magic happens, we go over the months results of your eCommerce content marketing and eCommerce email marketing strategy. When there is a year of data this is where it gets really fun!
In addition to going over those results we'll analyze your analytics and help you define your strategy moving forward.
We'll analyze the eCommerce tools your investing in and help you determine which ones should make the cut for this months budget and we'll analyze our own services for ROI and let you know if it's still mutually beneficial.
Investing in your long term success, sometimes means we have to part ways until it makes sense for your bottom line. We totally get that!
So in addition to doing work for you, we'll outline a strategy. Monitor your vendors, help you analyze their performance.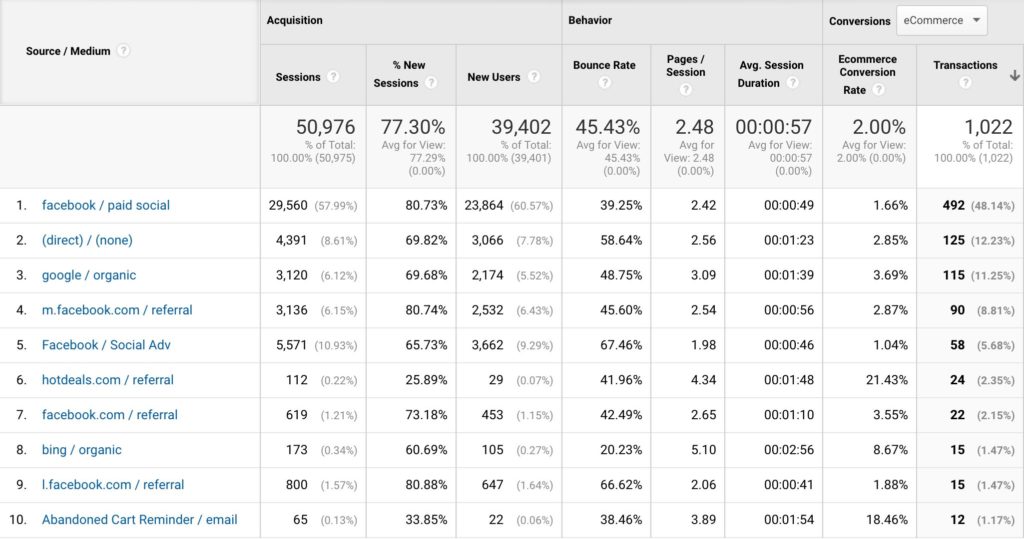 We'll help you create and achieve your Goals, Calendars, Deadlines.

Through constant accountability we'll help you set up processes that you can automate to save you hundreds of hours a month.

Ready to get started? Contact eCommerce Cosmos.