eCommerce websites don't magically see 6 figure sales every month. It takes a foundation and a digital presence that not only attracts new customers but also encourages life long customers to become part of your mission.
At eCommerce Cosmos we love helping build lifelong brands that will succeed for generations to come. This all starts with an eCommerce vision, a differentiating factor, your unique value proposition, something you do better than anyone else in your industry or niche. Whether it's passion, price, perseverance, we help you identify it and sell it.
Sure we can do a 10 minute video audit for $500 and give you some key insights on how to improve your website.
This website review above for the brand Thuggies helped them improve their website and sales for years ahead.


If you don't have a large team, no matter how much information we give, executing is going to be the number one problem. Our eCommerce audits include a comprehensive plan and implementation.
From over a decade in the industry below are the services you'll see the most ROI from.
Commerce Growth Package #1:
eCommerce Email Automation: $12,500 + Software costs we use Klaviyo and/or Mailchimp.
Includes:
3 Cart Abandonment Emails with A/B tests and 12 months of service.
We'll create and A/B test a series of 3 cart abandonment emails, testing important variables including: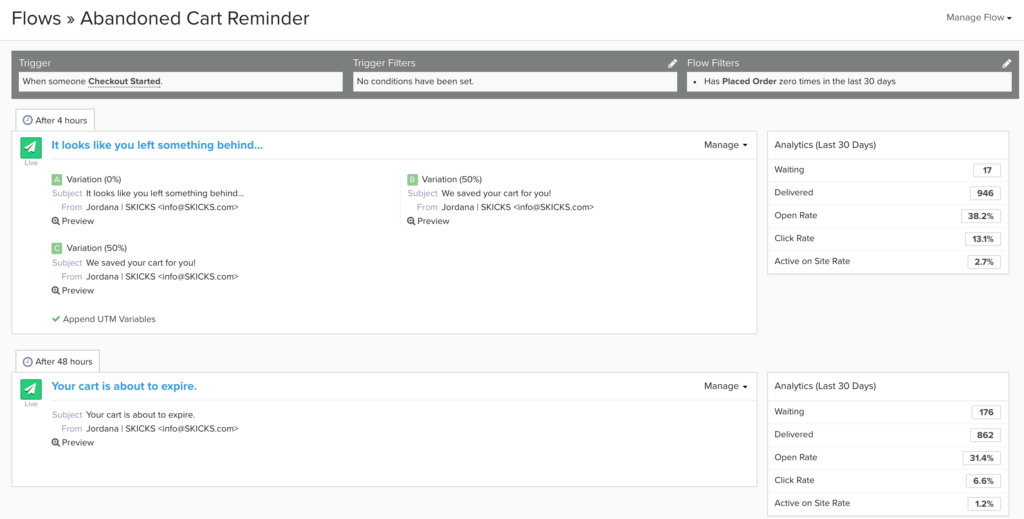 2 Product Review Emails with A/B tests and 12 months of service.
Product review emails are essential in building up your ratings and reviews. There are companies that base their entire business on product reviews… they charge $20,000+ a year to populate reviews across your site but you don't actually OWN those reviews.
Start building your own review program and learn how to incentive your verified customers to leave honest product reviews.

Not only will reviews be a goldmine for your content, they also help tons with SEO which we'll talk more about in the eCommerce SEO audit.
But when you have star ratings appear in the Google SERPS your click through as position 2 is higher than position 1.

3 Lifecycle Emails with A/B tests and 12 months of service.
Lifecycle emails are the "life" of your business and how you scale eCommerce. Paying $20-$100 to acquire a new customer isn't sustainable if you can't get those same customers to make repeat purchases from you.
With lifecycle emails you send the right customers the right email at the right time to encourage repeat business. One of the best ways to do this is through a loyalty program which we'll talk about more below.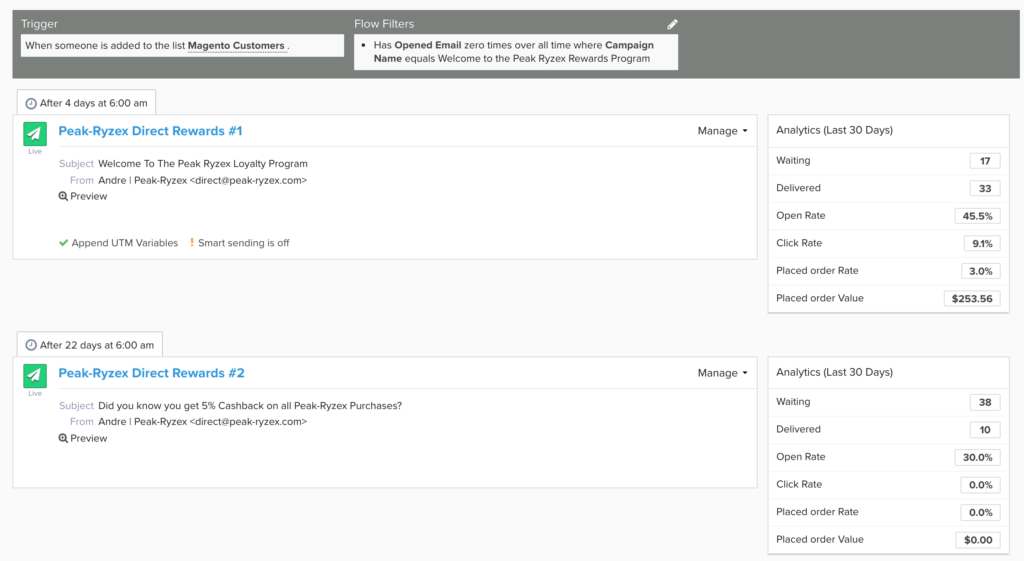 2 Custom Emails Catered around your unique brand and chosen by you
We'll do something rad that is unique for your brand. Something nobody else has. Wether it's implementing a strategy to acquire valuable user generated content or crafting a piece of content that's going to generate repeat sales we'll help you succeed with eCommerce email automation.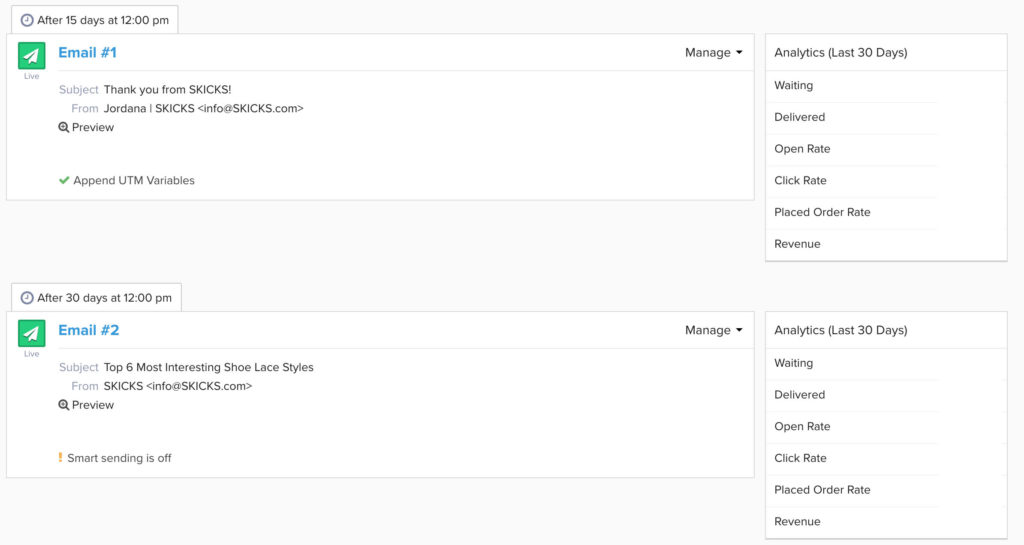 eCommerce Growth Package Service #2:
eCommerce SEO Audit: $4,500
Our eCommerce audits combine high level strategy with actionable tasks that will get you better organic rankings which = more qualified traffic and more qualified customers.
After we learn about your goals and your business objectives. We'll perform
eCommerce Keyword Analysis
eCommerce Competitor Analysis
Technical Analysis
eCommerce Page Level Analysis (Home Page, Category Pages, Product Pages, FAQs)
Content Analysis
eCommerce UX Analysis
Backlink Analysis
Citation Analysis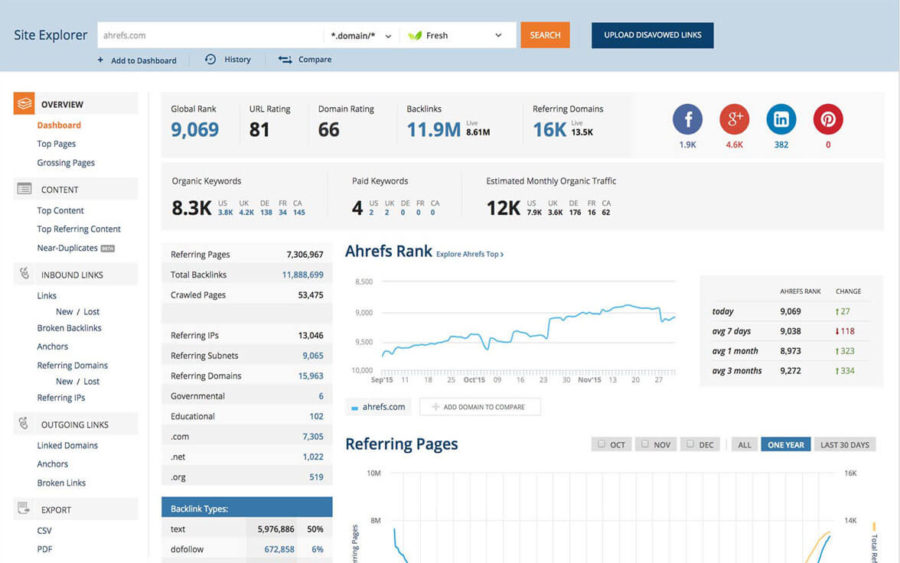 To implement the strategy within our eCommerce audit the cost is $1,500 monthly for minimum of 120 days. 
eCommerce Growth Package #3:
eCommerce Loyalty Program Implementation: $10,000 + Software costs
Increasing customer lifetime value is a constant battle, because these customer's ain't loyal.
Can you blame them? As a customer you want the best product at the best price and you want it on your doorstep in 48 hours.
Thank Amazon for that.
Amazon has an incredible customer loyalty program set up with Amazon Prime, yet… customers are willing to shop outside Amazon with stores they trust and feel brand loyalty towards.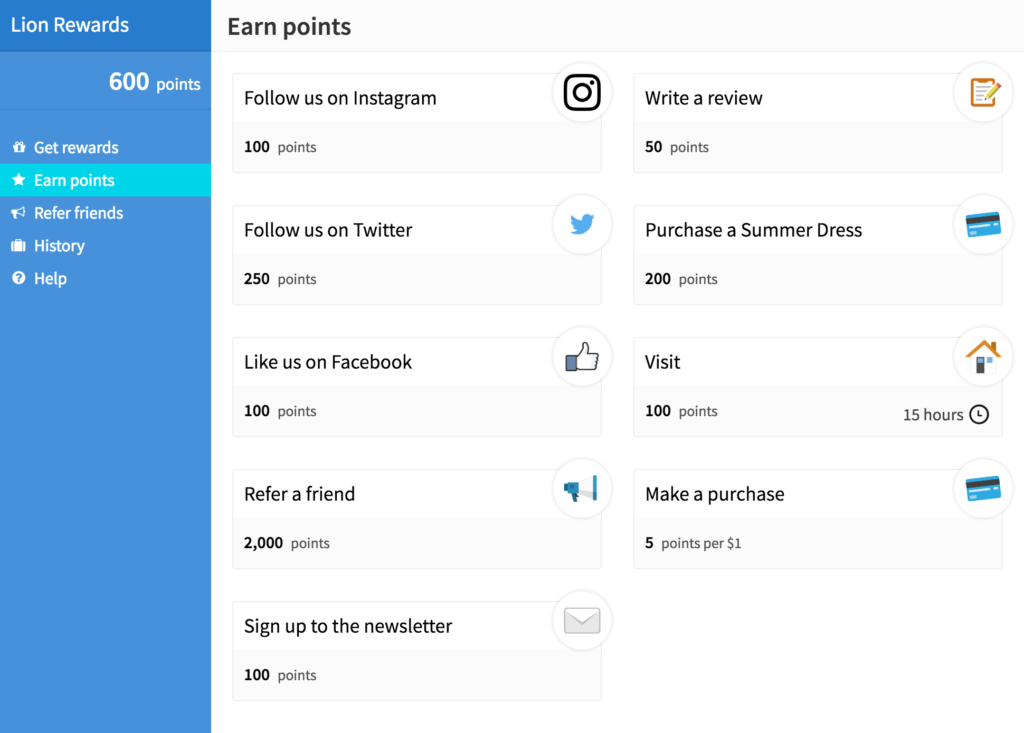 Loyalty isn't built overnight but adding a loyalty program into the mix is the first step. By integrating an eCommerce loyalty program on your store, you'll not only convert first time shoppers faster, you'll also create lasting relationships encouraging repeat buyers through gamification.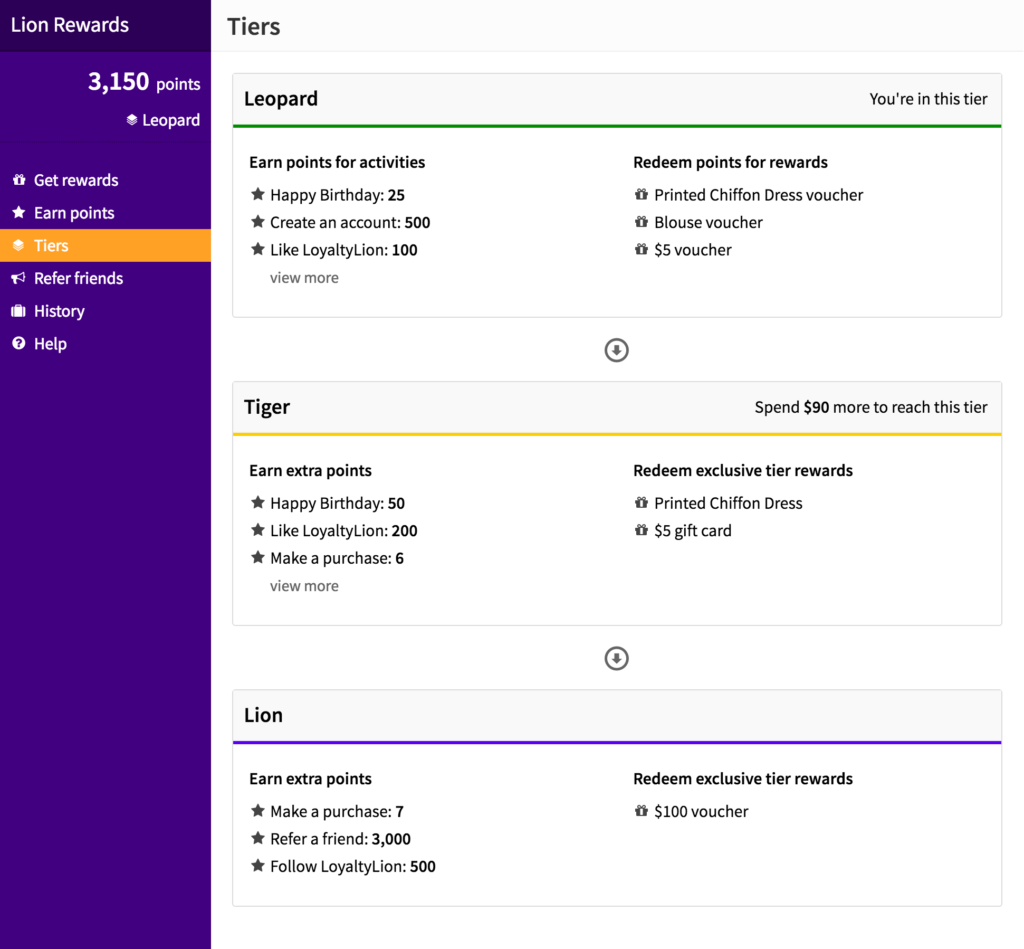 Setting up a loyalty program the right way takes a lot of work and though and we'll help you come up with a creative strategy that works for your eCommerce store.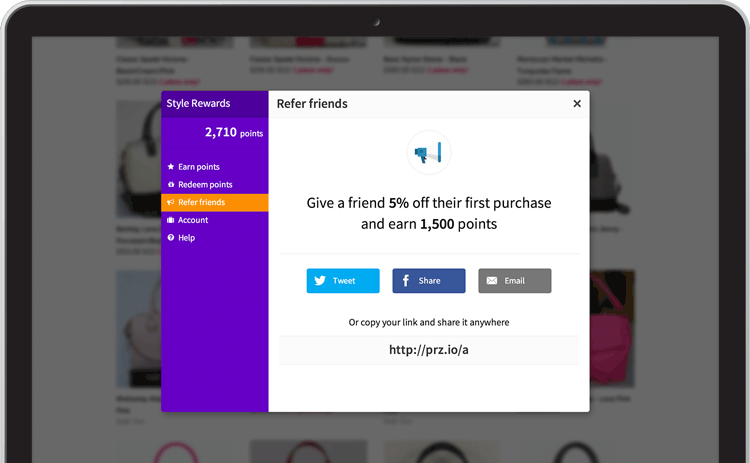 eCommerce Growth Package #4:
eCommerce Growth Package #5 eCommerce Product Feed Implementation + Feed Management $2,500 + Software Costs
If you don't have a product feed we'll help you create one. Our eCommerce product feeds will help you scale across multiple marketplaces.

In addition to the major names we'll get your feed ready for hundreds of marketplaces, and help you implement inventory management solutions so you can develop a multi channel strategy effectively while delivering a superior customer experience across all of them.
Our eCommerce product feeds will work on all the marketplaces below:
PriceRunner
Walmart
Performics
ShopAdvisor
Pricegrabber
Connexity
Affiliate Window
Wine Access
Rakuten
One Way Shopping
Google Shopping
Amazon
Become
ShopRunner
RedLaser
Pepperjam
Price.com
Sears Marketplace
eBay
EBates
Share A Sale
SortPrice
Kelkoo
Gifts.com
TheDressSpot
FindGift.com
Polyvore
Pricefalls
Shopzilla
Purch
Bazaar Voice
Wayfair
Yahoo Gemini
Nextag
Wine Searcher
eBay Commerce Network
Clix Galore
Pinterest
NewEgg
Shopsavvy
Bing Shopping
ShopMania
Commission Junction
Webgains
Link Connector
Wine Zap
Shop.com
Pronto
MyCoupons
Avant Link
Wish
Affiliate Future
Google Remarketing
Houzz
Facebook Dynamic Ads
Rakuten Linkshare
uGiftideas
Shoppable
Alibaba
Buzzillions
Fancy
ShopStyle
Creating and maintaining your feed is just part of the puzzle, unless you've run successful Google Adwords, Remarketing and Google Shopping campaigns for eCommerce before, you'll want to hire an eCommerce SEM expert.
eCommerce Growth Package #5
eGoogle Shopping, Product Listing Ads (PLAs) management: $1000-$10,000/month
Google Shopping has come to dominate the Google Search results. Gone are the days where you could bank on organic traffic. Most people don't even know they are clicking on advertisements because Google has gotten so sneaky in hiding them.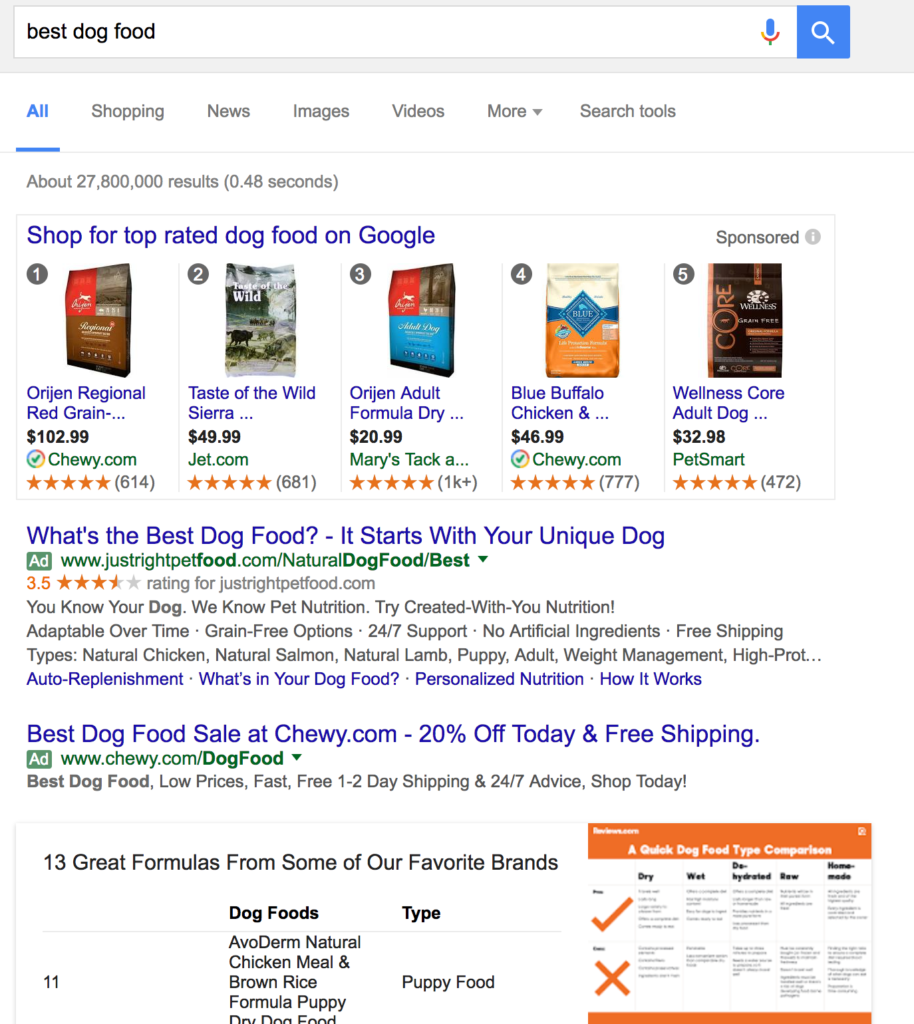 When searching for "best dog food" the entire above the fold section is composed of advertisements. You have to pay to play to appear on Google now.
Our experts understand how to make the most money from your eCommerce product feed, and make the most out of your budget so you can complete with the PetSmarts of your industry.
eCommerce Growth Package Service #6:
Conversion Rate Optimization Integration, CRO Roadmap Creation, On Demand Testing Team: $12,500 + Software Costs.
We'll set you up with the best eCommerce A/B testing software and develop a conversion optimization strategy for you to execute on. We'll even set up your first 3 experiments with at least 2 variations in each.
With your roadmap and new software you'll be able to increase that conversion rate and generate thousands of dollars a month.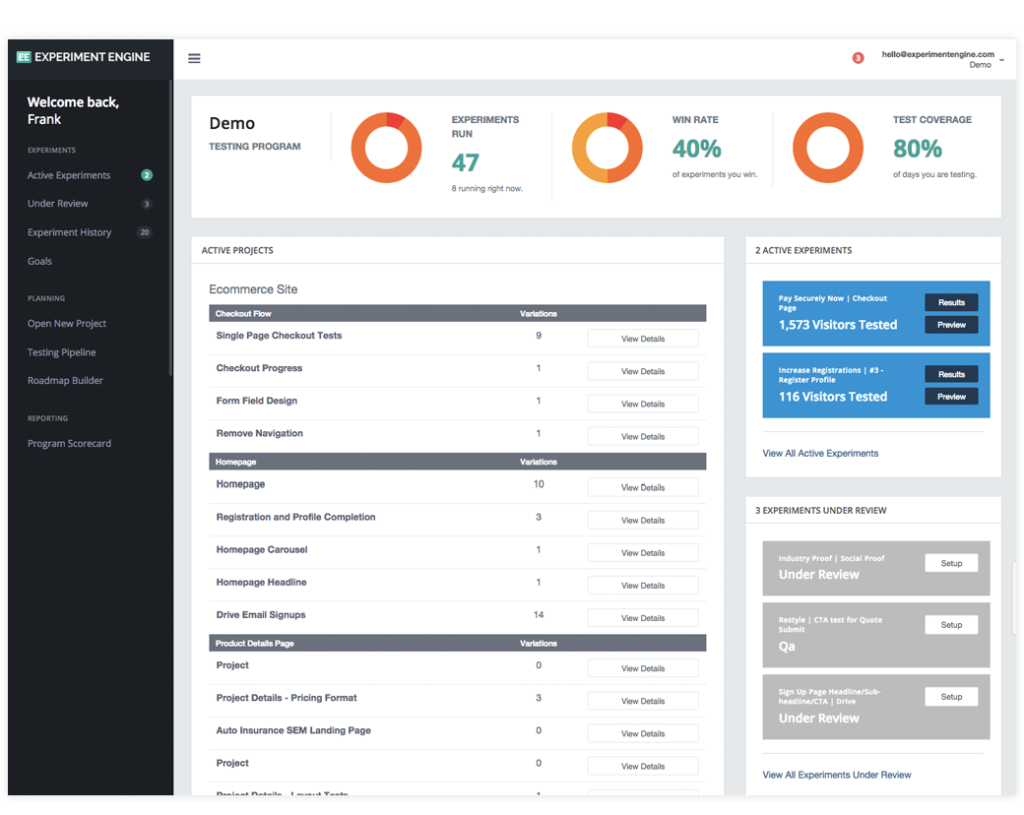 Doing some quick math, if you get 100,000 unique visitors a month with an average order value of $120 and an average conversion of 1% you generate 120,000 in revenue.
Raise that conversion rate by 15% (We've raised conversions by 400% on some sites) but let's be conservative with a 15% increase in conversions.

Thus traffic remains 100,000 unique monthly visitors, with an average order value of 120% and a conversion rate of 1.15%, 120,000 turns into 180,000.
60k more revenue without paying for more traffic. 1 successful experiment typically pays for a year of A/B testing.
Ready to start growing your eCommerce store? Contact us today.