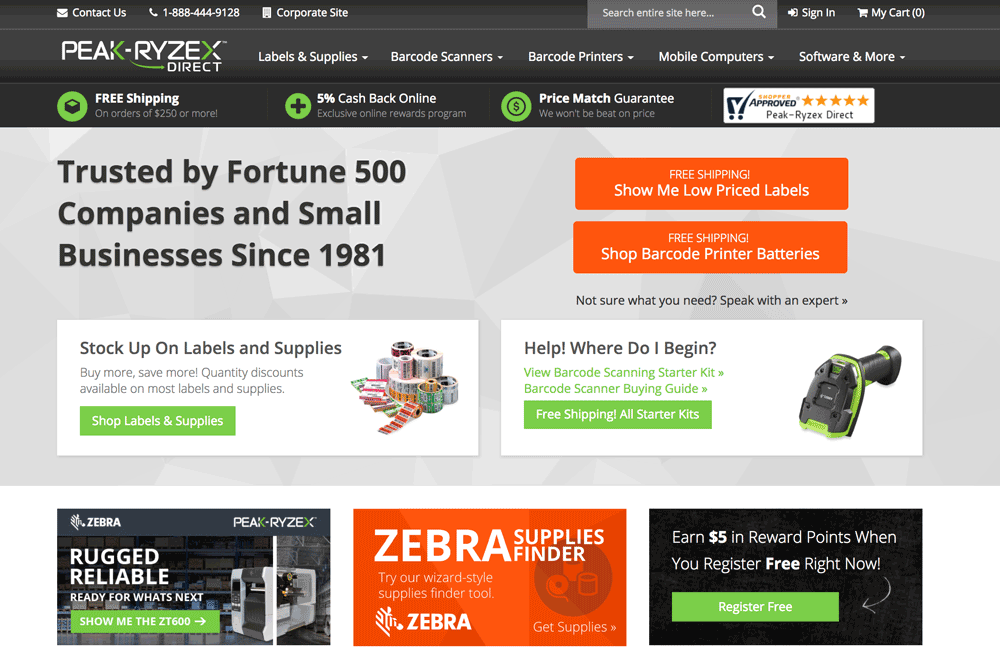 Peak-Ryzex Direct Generates ROI on Email Marketing Investment in Less Than 3 Months
eCommerce email marketing has it's role in every eCommerce industry. Regardless if you are selling hammocks, sneakers, art or barcode scanners, eCommerce email marketing should account for about 25% of your sales if implemented effectively.
If you are just starting eCommerce email marketing this goal can take 1-2 years to reach but the investment is well worth it. Can you imagine 1/4 of your sales coming in from customers who gave you permission to market to them via email?
By building an eCommerce email newsletter program and automating emails based on the actions customers take while on your site, you'll save hundreds of thousands of dollars in the long run without investing more marketing dollars in customer acquisition.
Cost of Customer Acquisition Skyrockets 🚀
With the Cost of Customer Acquisition (COCA) in eCommerce steadily rising, building customer loyalty programs and increasing repeat purchases is the logical solution to increasing your eCommerce revenue and profits.
Peak-Ryzex Direct engaged eCommerce Cosmos to help scale their eCommerce email marketing program. By developing an email marketing content calendar and automating emails based on behaviors that customers took on their site, Peak-Ryzex Direct was able to generate tens of thousands of dollars in sales with email marketing, driving over 5% of their digital revenue through eCommerce emails.
The eCommerce Email Marketing Solution
eCommerce Cosmos implemented 3 unique eCommerce email flows with a series of A/B tested emails for Peak-Ryzex Direct with Klaviyo Email Marketing Software.
1. Abandoned Cart Recovery Series
For abandoned carts we implemented:
2 Emails

Triggered when customers have added a product to their cart but haven't completed an order.
 eCommerce Cosmos installed the eCommerce email marketing software Klaviyo to trigger custom emails to customers based on their behavior on the Peak-Ryzex eCommerce site.
eCommerce Email Marketing works best when it delivers an unique experience to each customer depending on behaviors they take on your site.
With Klaviyo, we are able to get granular information about each and every customer on our site.
Email 1: Delivered 2 hours Post Cart Abandonment:
Email 2: Delivered 46 Hours Post Cart Abandonment:
With Klaviyo we are able to utilize customers data and behavior to deliver them a better email experience.
The results from abandoned eCommerce shopping cart emails:
47% Open Rates

18% Click Rates

5% of carts recovered
Recovering over 5% of abandoned shopping carts in the first month is a huge win! Now A/B testing comes into play to increase the open rates, click rates and cart recovery rate.

2. eCommerce Product Review Emails Automation Flow
For product review emails carts we implemented:
2 Emails

Triggered when customers have purchased a product 
Good old product reviews… There are companies that shall not be named but they want to charge hundreds of thousands of dollars a year to help big brands populate product reviews but like everything else regarding your site.
It's better to own the review on your own property than to pay some 3rd party for essentially rented reviews that you don't own.
Product reviews can help increase eCommerce conversions, and they boost organic traffic by increasing click thru rate in the search engines with their star rating displays and continue to add fresh content to otherwise old product pages.
Getting product reviews may be tricky but automating the process and offering loyalty incentives will help you start getting those 5 star reviews you are looking for.
For Product Review Emails we set up 2 emails 14 & 28 days after, with the CTA being a benefit to the customer and not a hassle of "leaving a review". Unlike cart abandonment emails which you want to send hours after product review emails need to be timed to ensure your customers already have their product in hand.
Email 1: Delivered 14 Days Post Purchase:
Email 2: Delivered 28 Days Post Purchase
3. Lifecycle Email Campaign Series Promoting Loyalty Program
For eCommerce Loyalty Program Emails we implemented:
3 Emails

Triggered when customers have purchased a product 
The most exciting series of emails implemented! Increasing customer lifetime value is crucial for you to succeed in eCommerce and working with Peak-Ryzex Direct was a pleasure because not only do they understand this, they have implemented the only loyalty program in their industry.
This made our jobs at eCommerce Cosmos a cinch!
These emails are designed to educate and to get customers excited about cash back and becoming a part of Peak-Ryzex Direct Rewards timed not to interfere with product review emails.
Email 1: Delivered 4 Days Post Purchase
Email 2: Delivered 22 Days Post Purchase
Email 3: Delivered 40 Days Post Purchase
Results for Lifecycle Loyalty Emails
In just a few short weeks, the lifecycle emails are already doing their job. These emails are working because they are focused on customer benefits, they aren't salesy and they deliver value.
3 key takeaways from the loyalty emails:
They are tactful at reminding customers about the benefits of shopping with Peak-Ryzex

They add value by making it easy for customers to return to the Peak-Ryzex site to shop and use their reward points

They increase urgency in the last email with the call to action "Don't let your reward points go to waste"
Next Steps for Peak-Ryzex Direct
Klaviyo is rad because you can break down your emails by flow and see what your revenue per recipient is. Increasing revenue is great but revenue per recipient is the ideal metric you want to look at.
For next steps Peak-Ryzex Direct will continue to A/B test the current automation flows to increase revenue per recipient.

Peak-Ryzex Direct has thousands of SKUs and due to the nature of their products they are a perfect candidate for A/B testing.
As I stated in the "Navigating a Career in Marketing Automation eBook"
 "A great marketing automation marketer is different than a good one in that once a series of automations is set up, a great marketing automation marketer will continue to improve on them by A/B testing the automations."
With consistent A/B testing not only can Peak-Ryzex Direct increase revenue, they can discover more about their customers' interests and shopping habits.
Since Peak-Ryzex Direct sells products + supplies that need to be replenished such as Barcode Labels automating emails, to customers reminding them to re purchase is a guaranteed way to increase loyalty. With behavioral email marketing Peak-Ryzex Direct can test, the best content to send and the best time to send the content at.
Want help setting up your email marketing flows? Get a FREE 30 minute eCommerce Email Consultation. Contact us.
Client

Peak-Ryzex Direct

Date

February 16, 2018

Tags

eCommerce Email Marketing