Your ecommerce store's blog is a crucial aspect of your online business. A well thought-out content strategy can generate traffic to your site, build relationships with your customers, establish your brand's identity online, and help you promote and sell your products. If yours is falling by the wayside, check out the examples below for some inspiration to transform your blog into a hub for your customers.
The news authority
Coffee's popularity has exploded in the past decade, with the simple act of making a coffee virtually becoming an art form. It has spawned a whole generation of java-loving customers who live, breathe, and (naturally) drink coffee. To cater for this growing demand, Death Wish Coffee's blog features regular updates on all the latest developments in the world of the bean. With news on Dutch coffee companies recycling old grinds and the latest developments in recyclable eco-cups, the blog is a one-stop shop for all the industry news.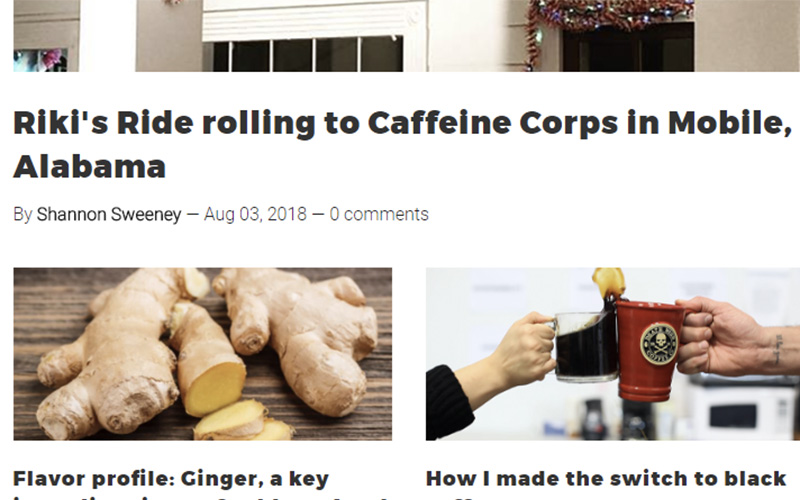 Image Death Wish Coffee
Alongside regular coffee news features a wealth of useful content that will appeal to their audience. Tips on grinding coffee without a grinder and a detailed rundown on espresso and how to drink it are just two examples of this. Note that this content isn't seasonal — it's evergreen, meaning their customers can benefit from it anytime. This long-term value creates customer loyalty with their brand, making Death Wish Coffee's blog one to return to time and again.
How to do it right
You started your eCommerce business because you know and love what you do, whether it's brewing and selling craft beer or making your own line of luxury handbags. As a result, you know all there is to know about what you do, and you're passionate about it too. By staying up to date on industry news, you can share your opinions on it to your customers. In doing so, you can position your blog as an authority within your niche.
Create evergreen content that your audience can benefit from all the time, and keep your finger on the pulse of your industry. You'll soon see your blog become a hub for news, opinion, and learning for your customers.
The question-and-answer
Just how much content can you really get out of a simple bedding store? The answer is, surprisingly, quite a lot. Take a scroll through the blog of online linens store Au Lit Fine Linens and you'll see page after page of intriguing titles. From 'Bedding Basics: The Ultimate Guide' to '8 Gorgeous Gifts For Travel Lovers', there are dozens of posts to draw you in.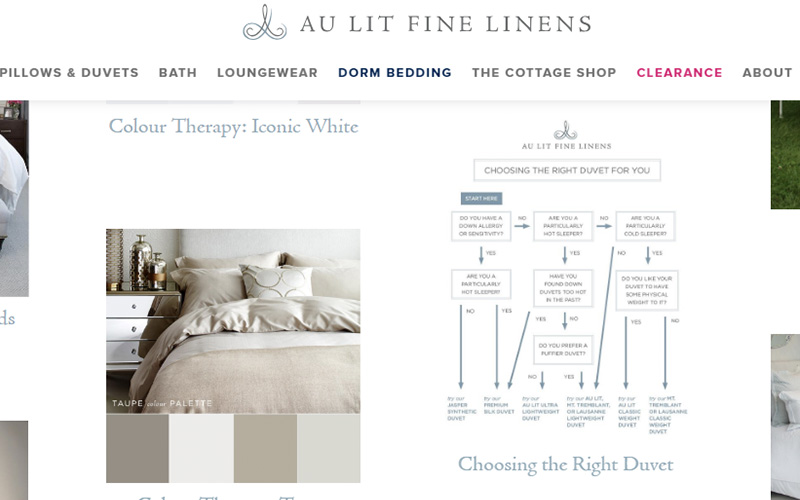 Image Au Lit Fine Linens
So what does Au Lit Fine Linen do right? In a nutshell: they provide answers to their customers' questions. Many of their posts explore issues that their readers might face, such as various ways of getting a good night's sleep, or decoration ideas for the bedroom. Their content knows the problems their customer niche experience, and they simply provide the answers. Their posts also frequently offer their own products as part of the solution, their content serving as subtle marketing efforts.
It's not all practical advice, however. Inbetween tips on choosing the right duvet and seasonal gift buying guides are more entertaining posts such as a brief history of the bed or what your bedding color reveals about you. Such a mix of useful and interesting content delivers value to Au Lit Fine Linens' customers, ensuring they'll return to their blog time and again.
How to do it right
To emulate Au Lit Fine Linens' success, you should first do your keyword research. By exploring search terms related to your business, you can discover what your customers are searching for. A useful aid to help you with this is Keyword Tool's question feature, which returns the most commonly asked questions related to your keywords.
Armed with this knowledge, you can create content that addresses and resolves those queries. Ensure that your posts offer your readers useful and actionable advice that they can take away and benefit from. This could even take the form of an infographic or short video so your reader can quickly and easily absorb it. And like Au Lit Fine Linens, include a link to your own product pages to really ramp up your sales through your content. Online store CMSs tend to have quick cut-and-paste shortcuts that allow you to easily embed products into blogs, but you can also use embed plugins on WordPress. In doing so, you will provide value to your customers while boosting your store at the same time.
The entertainer
But not all eCommerce blogs are about driving sales. Your blog is also about establishing your brand and its identity. A great example of this in action can be seen on dog treat subscription service BarkBox. A trawl through their blog, BarkPost, doesn't solely throw up the plethora of useful, practical titles that Au Lit Fine Linens offers. Instead, readers are treated to such whimsical titles as '14 Dogs Goofing Off For Toothy Tuesday' or '18 Dogs Who Don't Approve Of This Water Torture You Call "Bath Time"'.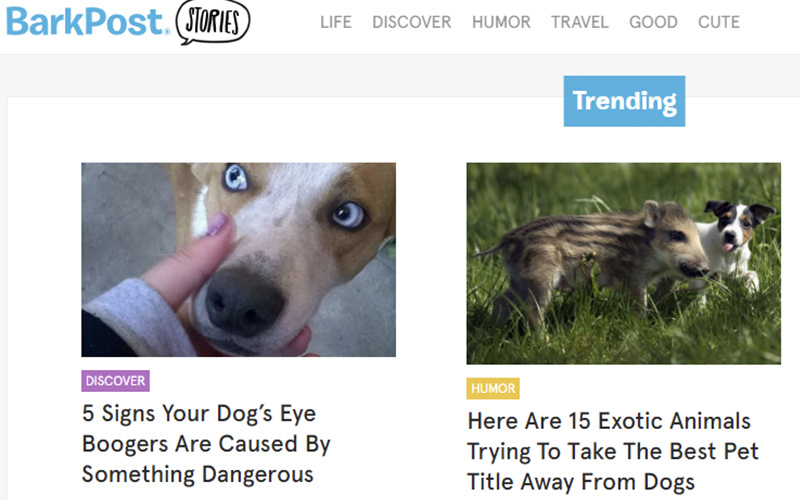 Image BarkPost
While BarkBox does have some actionable posts for dog-lovers scattered around its blog, many of them are entertaining listicles. They serve no purpose other than to amuse — and that's fine! Each post on the site is accompanied by several social share buttons, so entertained readers can easily share them with their friends.
BarkBox not only increases their reach by getting their content shared and re-shared again online, they also receive social proof as a result. It's a simple idea but, by seeking to both inform and entertain, their blog receives huge visibility.
How to do it right
Informative and useful content has its place on your blog, but you don't need to focus on it entirely. Your blog is also about evoking positive feelings within your customer that you want them to associate with your brand. While this approach might not work with every kind of business, it can be used to great effect for others.
Listicles featuring memes, gifs, and other visual content are a great way to engage readers. Don't be afraid to get a little whimsical with it either! As long as you're creating a mix of  content that will inform as well as entertain, your blog will hit all the right notes.
Your blog is a crucial element to your eCommerce store. Learn from the examples above and create a blog strategy that will inform, educate, and entertain your customers to make them return to your store again and again.