53 percent of respondents said they'd be more likely to purchase from a brand that uses VR than from one that doesn't.
I personally got addicted to virtual reality when my friend Chris Stegner took me into his office at Mad Dev and introduced the HTC Vive Virtual Reality System to me. Though I was at the office for a meeting, I don't remember what it was about after experiencing virtual reality ?.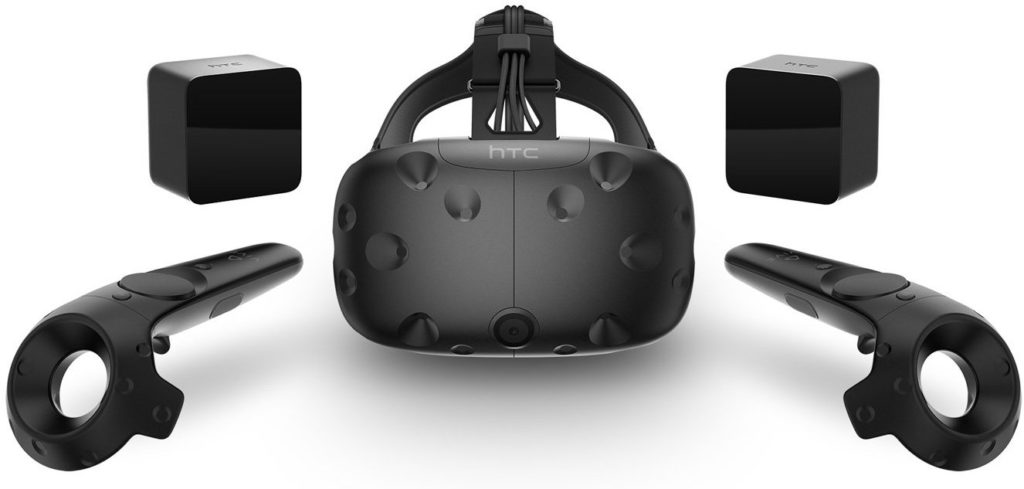 Needless to say virtual reality is here to stay, and one of your primary eCommerce goals in 2017 should be discovering how to give your customers an in store experience with virtual reality. By 2018 Paul Lemkin predicts the virtual reality device market is going to be worth $4 Billion and virtual reality is definitely going to be a long term investment rather than a short term trend.
If you aren't familiar with virtual reality it's also know as immersive multimedia or computer-simulated reality. VR integrates technology and experience design crafting environments that are 100% immersive making users feel like they've truly entered the simulated virtual environment.
Being an eCommerce geek my eyes were instantly opened to the endless possibilities of virtual reality in eCommerce.
Is There Trust in eCommerce?
The fact of the matter is, many customers are still afraid to shop online. Customers don't trust eCommerce stores. Anyone can throw up a website these days.
According to SiteJabber here are some of the top reasons "Why People are Afraid of eCommerce?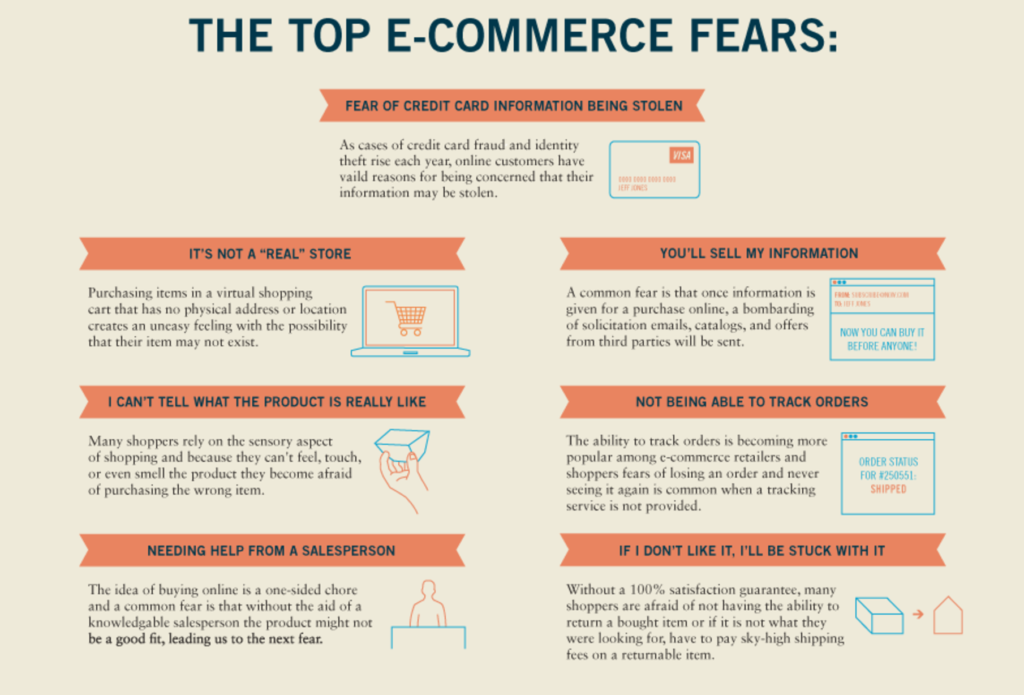 Fear #1: Fear of Credit Card Information Being Stolen
As cases of credit card fraud and identity theft rise each year, online customers have valid reasons for being concerned that their information may be stolen.
Fear #2: It's not a "Real" store
Purchasing items in a virtual shopping cart that has no physical address or location creates an uneasy feeling with the possibility that their item may not exist.
Fear #3: You'll sell my information
A common fear is that once information is given for a purchase online, a bombarding of solicitation emails, catalogs, and offers from third parties will be sent.
Fear #4: I can't tell what the product is really like
Many shoppers rely on sensory aspect of shopping and because they can't feel, touch or even smell the product they become afraid of purchasing the wrong item.
Fear #5: Not being able to track orders
The ability to track orders is becoming more popular among eCommerce retailers and shoppers fears of losing an order and never seeing it again is common when a tracking service is not provided.
Fear #6: Needing help from a salesperson
The idea of buying online is a one-sided chore and a common fear is that without the aid of a knowledgable salesperson the product might not be a good fit, leading us to the next fear.
Fear #7: If I don't like it, I'll be stuck with it
Without a 100% satisfaction guarantee many shoppers are afraid of not having the ability to return a bought item or if it is not what they were looking for, have to pay sky-high shipping fees on a returnable item.
Virtual reality in eCommerce can help tackle many of these fears including the sensory aspect, needing help from a salesperson and given reassurance of a real eCommerce store.
eCommerce Platforms Investing in VR
Shopify Has a Virtual Reality Department. If you aren't convinced that eCommerce and virtual reality have a future together than you need to listen to or read the transcripts of Andrew Youderian interviewing Daniel Beauchamp, head of the virtual reality department at Shopify, What Virtual Reality Means for eCommerce.
"With eCommerce VR for the first time ever, brands can actually put people in the stories that their products tell." – Daniel Beauchamp
eCommerce companies and brands are already utilizing virtual reality to revolutionize the eCommerce market says Harold Stark from Forbes.
Here are 7 badass examples of virtual reality in the eCommerce world.
1. IKEA Kitchen in Virtual Reality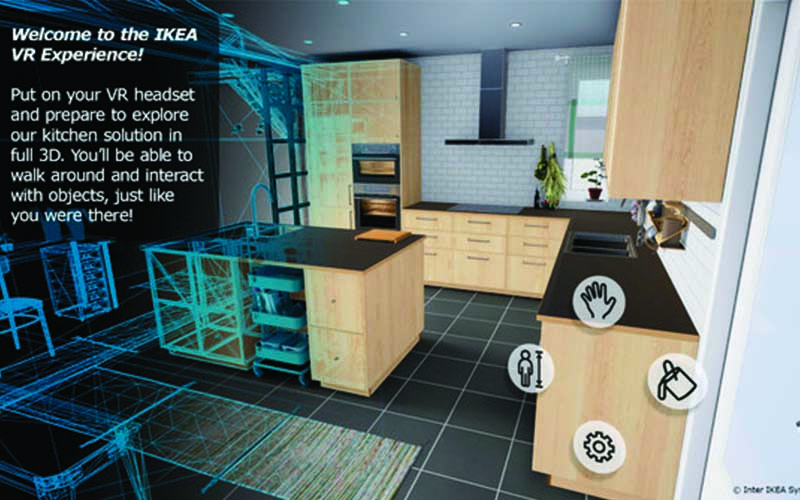 IKEA released their virtual reality experience in April of 2016 allowing customers to walk around freely, open drawers and put your vegetable peelings in the waste sorting station.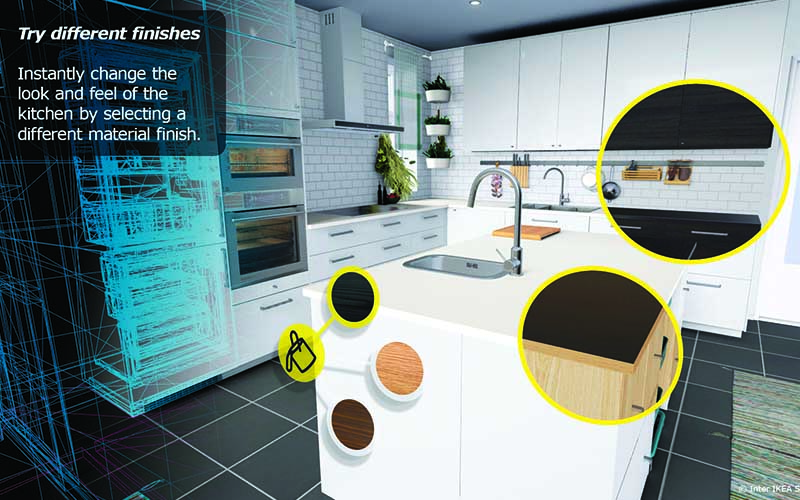 You can even enjoy the visual impact of different material finishes and experience things from a child's point of view to see how safe your dream kitchen can be.
With over 219 reviews being mostly positive, IKEA's virtual reality kitchen has been a huge success.
2. Lowe's Innovation Labs Holoroom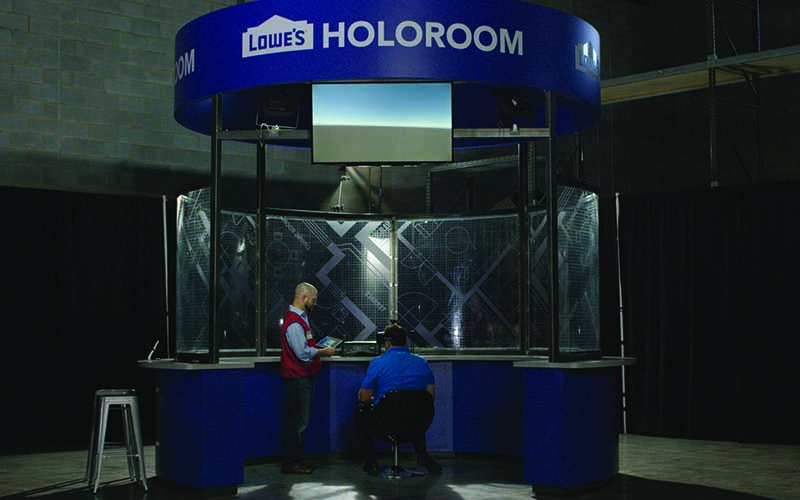 The Lowe's Holoroom is a virtual reality home improvement design and visualization tool that enables home owners with an immersive experience in their dream room.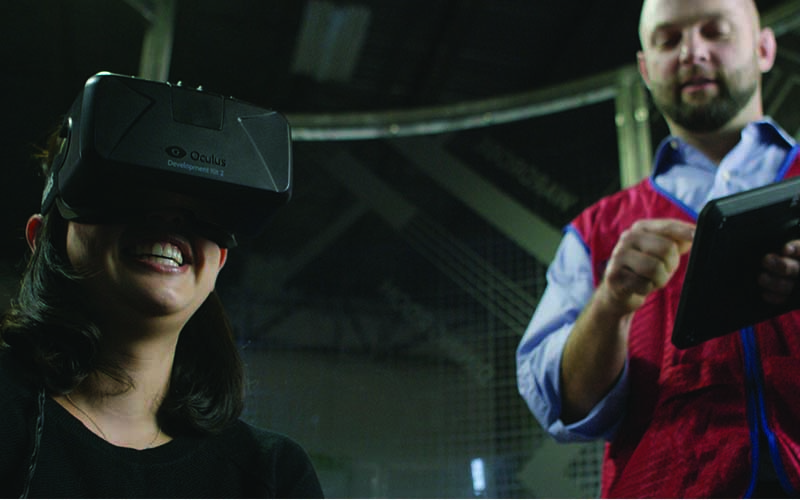 The Lowe's Innovation Lab Holoroom was released in 2014 as the first concept from Lowe's Innovation Labs, the Holoroom is now available in 19 stores across the U.S.
Lowe's Innovation Labs will continue to develop the experiences as technology evolves and and real-time feedback is gathered from customers and employees.
'
Imagine creating your perfect virtual home and experience living in it before investing in the resources.
3. Merrell's "TrailScape" experience the first-ever "walk around" commercial virtual-reality experience.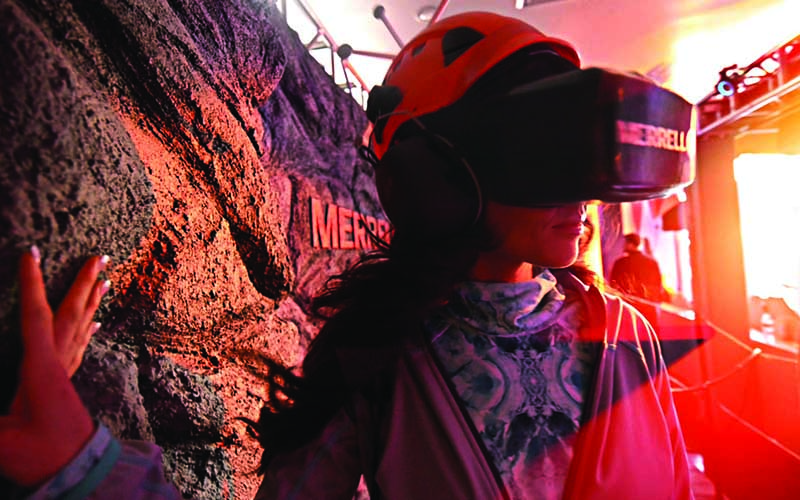 Hiking boot brand Merrell partnered with Rolling Stone magazine to create the Merrell "TrailScape" experience.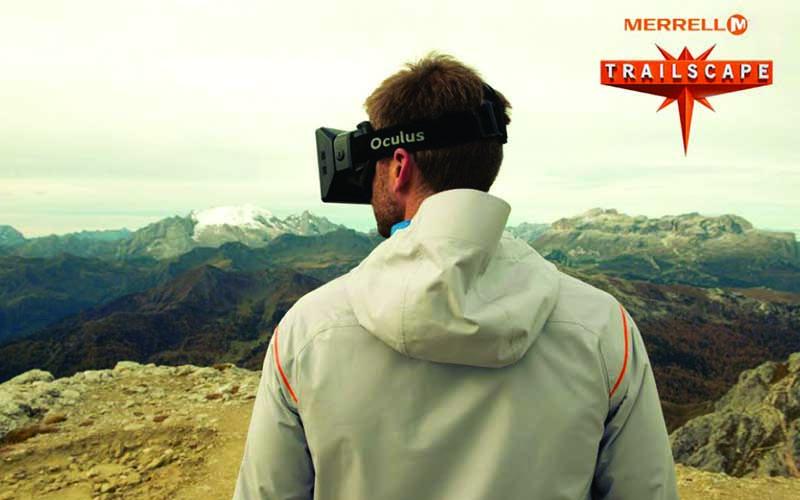 The virtual reality experience allows hikers and hammockers to virtually walk through the mountainous region, and the experience is supported with physical elements like ropes that mark a bridge, a rock wall and fans that simulate wind.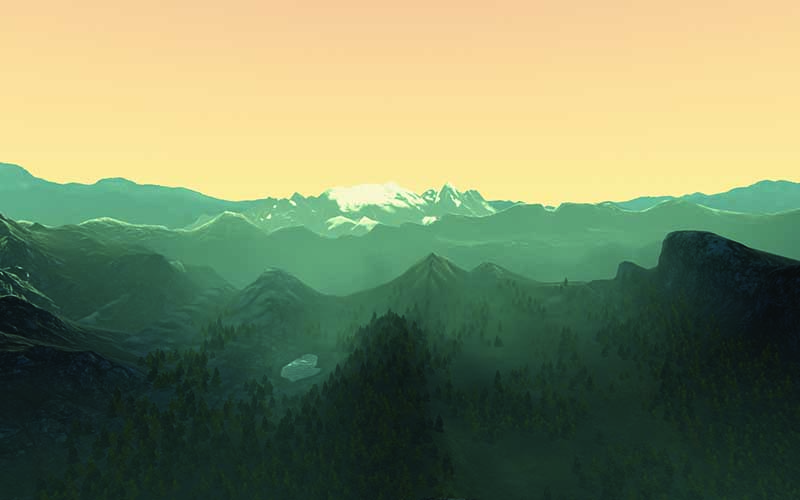 The VR experience is made to inspire adventure and encourage people to explore the outdoors.
"Our purpose is to be a catalyst and outlet to get to the outdoors," said Gene McCarthy former President of the Merrell Brand.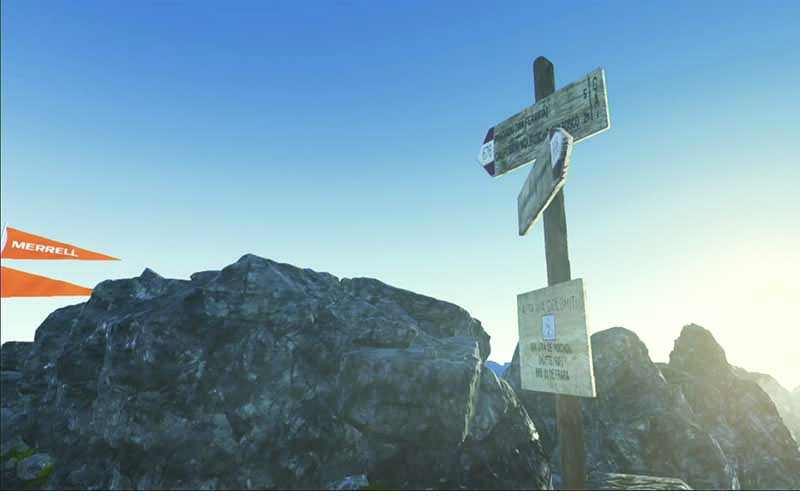 The Trailscape virtual reality experience had it's debut at Sundance and coincided with the launch of Merrell's new Capra hiking boot, which was inspired by a type of goat that lives in the Dolomite Mountains in Italy.
Hill Holliday partnered with Framestore and Oscar-winning effects house that worked on Gravity and also famously did the Oculus activation for HBO's Game of Thrones at South by Southwest last March.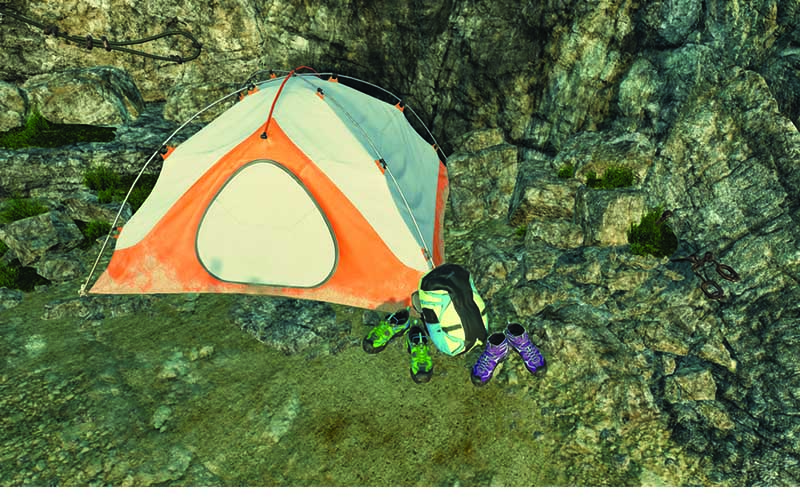 With over 750 hikes, 500,000 global reach and 100% completion rate of the 5 minute hike this was a phenomenal campaign for Merrell.
4. Whirlpools Integrated Fridge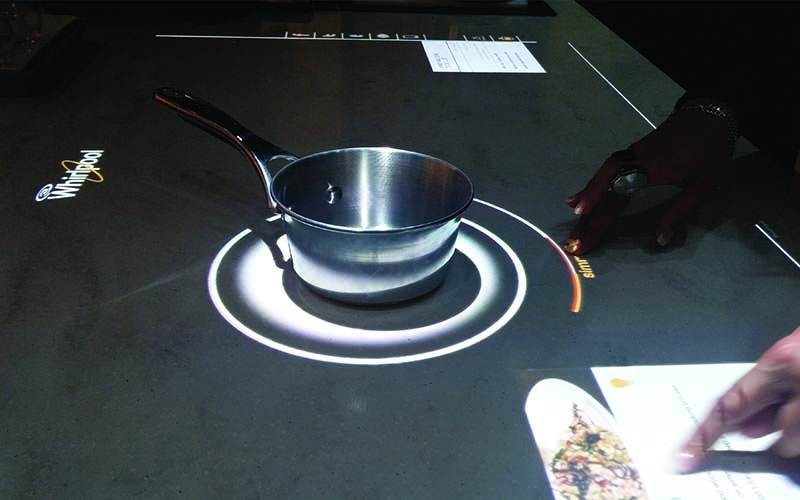 In 2016, Whirlpool® presented their Interactive Kitchen of the Future. The VR simulation demonstrated the kitchen as a cooking and info hub, showcasing how Whirlpool® smart technology will help a family cook, clean and care in the near future.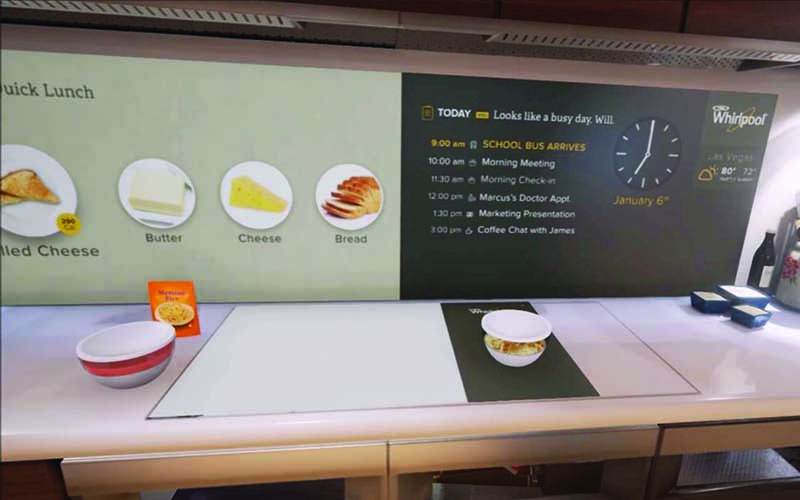 Working with the brilliant team at DigitasLBi in the US, Hammerhead VR developed the experience to a very high visual fidelity using Unreal Engine, releasing the experience on Oculus Rift, Gear VR, Google Cardboard and on Youtube 360.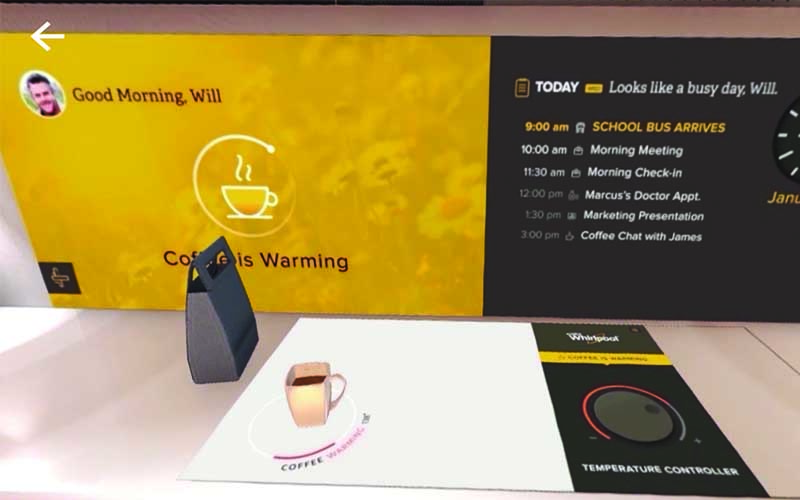 Experience now for Google Cardboard, Tablets, Smartphones and Oculus DK2.
5. Ebay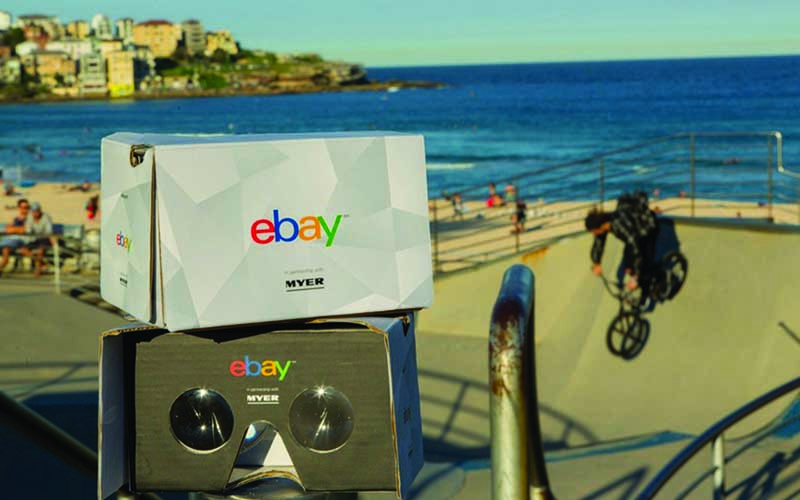 eBay, & Australian retailer, Myer have joined forces to provide a glimpse into the future of shopping by creating the world's first Virtual Reality (VR) Department Store.
Within the virtual reality eCommerce experience more than 12,500 goods from Myer can be browsed, selected and added to cart using eBay's proprietary Sight Search.
When creating this virtual reality store eBay and Myer focused on 4 things to create an incredible experience for shoppers.
1. Personalization: the shopper selects their areas of interest at the start of the virtual reality experience and the store is built around those interests, the most relevant products will be the first to be discoverable. As shoppers move through the store, the smart technology suggests other products that might be desirable or interesting, based on what the store knows about them.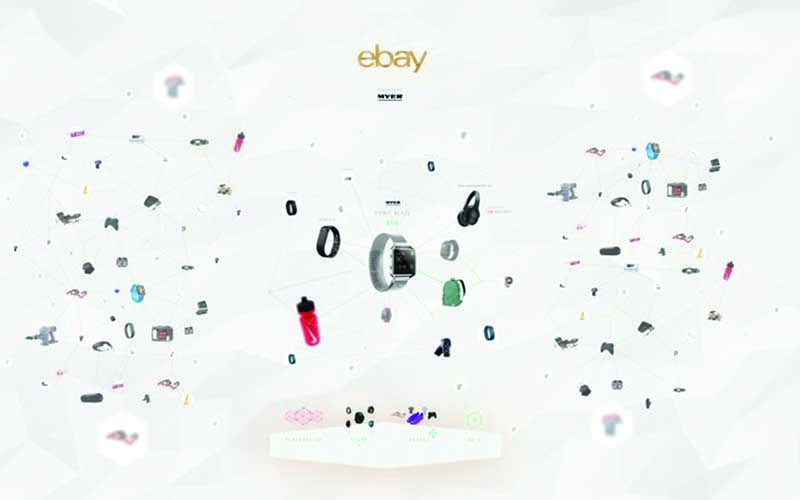 2. Browse: using eBay Sight Search™, the shopper views a product in the store and by holding their gaze on it, the product is selected and automatically floats towards them, with the top 100 products available to view in 3D, and more than 12,500 in 2D. The shopper is able to quickly move through different departments of the store, making the shopping experience much more time effective for today's busy consumer.
3. Research: shoppers simply lock eyes on information icons to receive full product specifications, as well as price, availability and shipping details.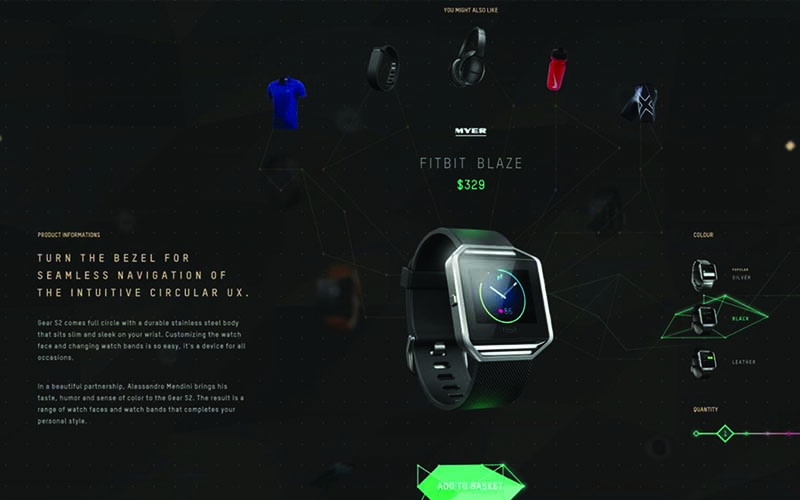 4. Purchase: shoppers just hold their eyes on the 'Add to Basket' icon to complete their purchases via the eBay app.
6. Marriott Teleportation Virtual Reality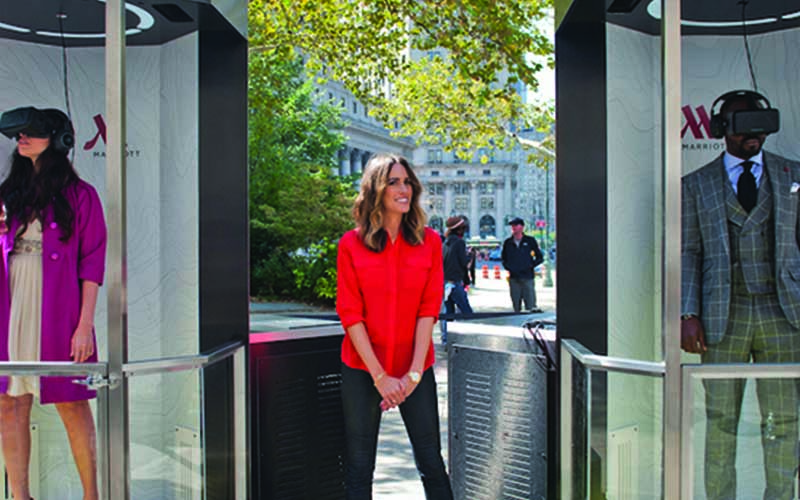 Marriott's 4D Teleporter the Virtual-Travel Experience is a brief but intense "journey" that starts in a computer-generated version of the Marriott lobby. You move across the lobby to a video map of Hawaii, then seemingly enter the map.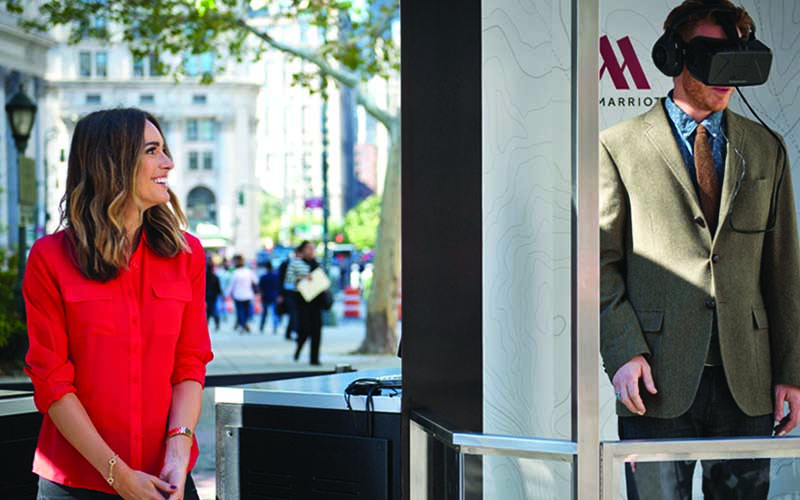 Seconds later, you're taking in the scenery at the Black Sand Beach in Maui. You hear the waves lapping on the shore, feel a soft breeze blow past and melt away into the warmth of the sun.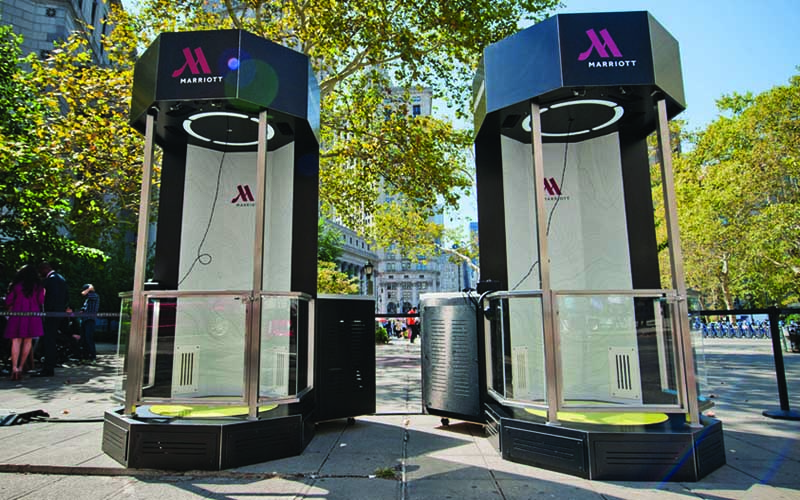 Looking down at your feet, behind you, to your left and right, you'll feel like you are really standing in paradise. Teleportation does exist.
7.  Experience the TOMS Virtual Giving Trip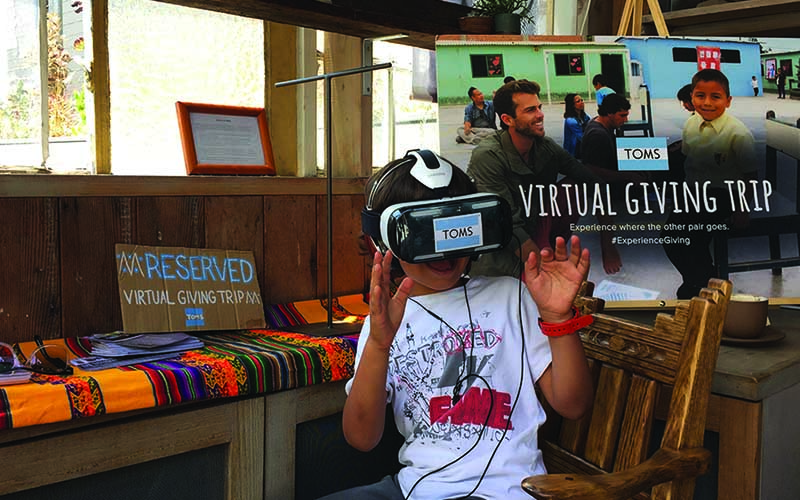 TOMS Giving Trips are an amazing opportunity for TOMS community members to visit Giving Partners across the globe + experience first-hand the incredible work they do.
Wanting to share these experiences with more community members TOMS partnered with AT&T to introduce their first-ever Virtual Giving Trip so you can take the journey at home and see/feel what it's like to give shoes to children in need.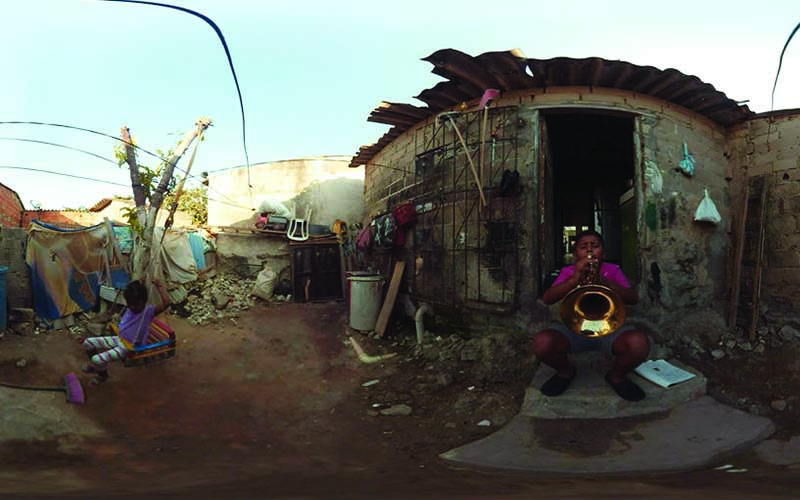 From flying over a Peruvian village to playing hopscotch at school with kids, you'll feel as though you are right there with the rest of the TOMS team.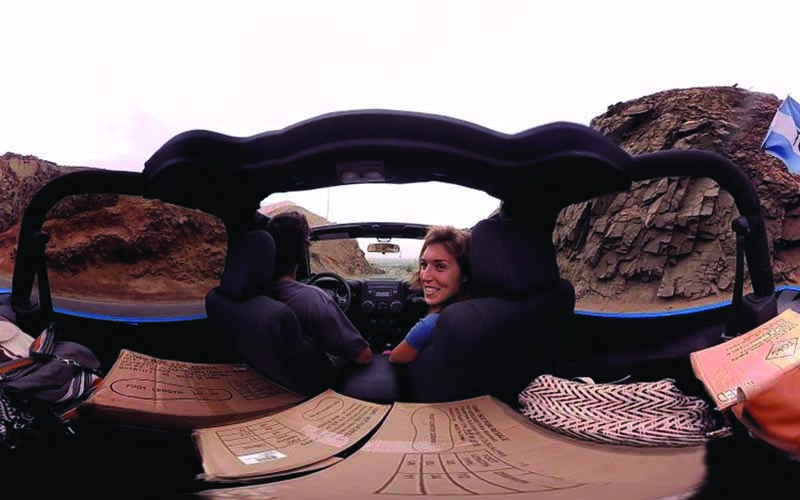 "A Walk In Their Shoes" chronicles the journey of one TOMS customer from California as he travels to Colombia to meet a child that benefits directly from his purchase.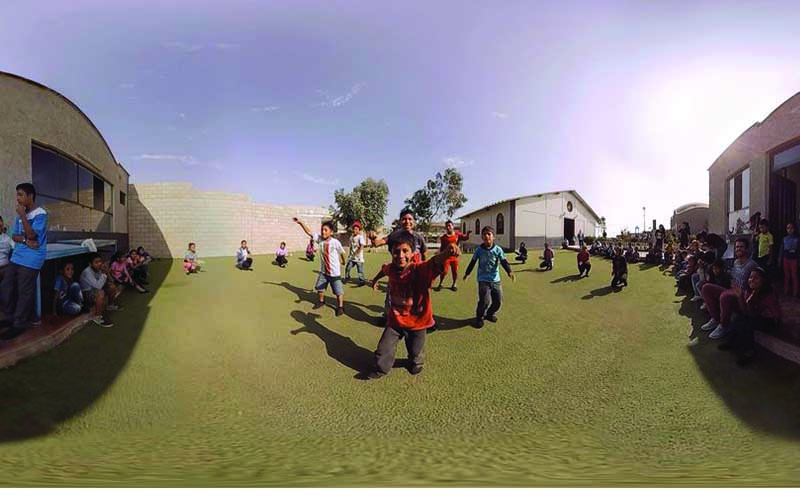 VR is the greatest technology I've seen to create empathy," says Blake Mycoskie. When you are a social eCommerce enterprise like Toms, the best marketing is to show customers and donors the real impact they can have."It's incredible when customers experience and see things for themselves.
We know this because we've seen it when we take people on giving trips over the years. Obviously that's not scalable, but a Virtual Reality experiences are infinitely scalable."
Stop by an official TOMS Store store to get the full virtual reality experience!
Virtual Reality Ideas Your Brand Can Steal:
The best part about VR is that you don't need to be a global brand with unlimited ad spend to start investing in eCommerce virtual reality.
With budgets from $30,000 – $100,000 you can create a virtual reality experience that continues to evolve with the technology.
Virtual Reality gives you an unprecedented advantage over the competition. Allowing you to teleport your customers into experiences that your product creates. Getting them hooked before they even buy.
Do you have any questions about virtual reality or want to share a rad example of it being used in the real world? Are you interested in getting a quote for a virtual reality project?
Comment below or get in touch.